Anspayaxw
(excerpt of stereo mixdown from 12-channel installation)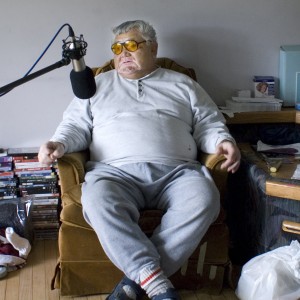 Description
Anspayaxw (Kispiox) is the Native reserve in northern British Columbia where I worked with linguist Tyler Peterson and visual artist Denise Hawrysio to record speakers of Gitxsanimaax, one of several endangered languages in this area of remarkable linguistic diversity.  This clip features the voice of K'uliltxw'm Saax (aka Bob Wilson), a fluent Gitxsan speaker described by his sister Louise, who invited us to record him, as 'my encyclopedia'.  Gitxsanimaax is what is referred to as an isolate, that is, it is not linguistically related to the languages surrounding it geographically.  The word Anspayaxw ends with a voiceless fricative, a breathy sound characteristic of the language.
The fieldwork for this project was funded by the Hans Rausing Endangered Languages Project.  The Canada Council for the Arts funded the 12-channel sound and photography installation which is showing at the Museum of Anthropology in Vancouver in 2010 and at the 'Ksan Cultural Centre near Kispiox in 2011.
Listening
All the sounds in this piece were recorded in and around the Kispiox reserve in both summer and winter.  The sound of running water was recorded through the frozen surface of the Kispiox River, and the footsteps in the crunchy snow that results when the temperature really plunges were recorded on the banks of that river.  There is also a bingo caller in the community hall on the reserve, recorded the night I met Louise, who insisted that we come the next day to record her brother Bob.  He speaks about Sm'algyax, or 'the true language', an earlier form of Gitxsanimaax, as spoken by his great grandmother, "very little of which remains".  There are approximately 600 'competent' speakers of Gitxsanimaax, most of whom are middle-aged or older. There are about 6,000 languages in the world, somewhere between 50 and 90% of which will be gone by the end of this century.
Equipment
Røde large diaphragm microphone, Sennheiser M/S microphone, Tascam DAT recorder, Nagra flash recorder.
Related Writings
Asymmetrical Translations:  The Art of John Wynne. Essay by Kate Hennessey. http://www.borderzones.ca/features_jw.html (Vancouver, Museum of Anthropology, 2009)
'To Play or Not to Play'. Article by JW in Playing With Words, edited by Cathy Lane, (Manchester, Cornerhouse Press, 2008)
Hearing Faces, Seeing Voices:  Sound Art, Experimentalism and the Ethnographic Gaze. Article by JW in Between Art and Anthropology, edited by Arnd Schneider and Chris Wright (Oxford, Berg, 2010)
'ITU:  The Din of Recovery', in The Art of Immersive Soundscapes,  edited by Ellen Waterman and Pauline Minevich (Canada, University of Regina Press, 2010)
Related Works
Upcountry http://www.sonus.ca/curators/norman/wynne.html
Transplant http://www.sensitivebrigade.com/Transplant.htm
Hearts, Lungs and Minds (commission for BBC Radio)
http://www.st-andrews.ac.uk/soundanth/work/wynnehearts/
Hearing Voices (commission for BBC Radio)
http://www.st-andrews.ac.uk/soundanth/work/wynnevoices/
Biography
John Wynne is a sound artist whose practice includes installations and award-winning radio pieces which hover on the boundary between documentation and abstraction, large scale 'architectural sound drawings', and multi-channel sculptural installations. His work with endangered languages includes a project with click languages in the Kalahari and another with one of Canada's indigenous languages, Gitxsanimaax. His work on the Transplant project with photographer Tim Wainwright led to a book, an installation and a half-hour commission for BBC Radio.  His vast 2009 installation for 300 speakers, player piano and vacuum cleaner is the first piece of sound art in the Saatchi collection. He teaches at the University of the Arts London and has a PhD from Goldsmiths College, University of London.